25 Funny 'Memes to Discuss in Therapy' That Would Be Great Material for Your Next Session
These memes are proof that some intrusive thoughts are universal and thereby make us all members of a weird mental health struggles club.
Mental health and talk around it sell like hotcakes on the internet ever since the pandemic struck us. The pandemic forced us to spend a lot of time with our intrusive thoughts and social media not only helped in increasing mass awareness regarding mental health but also created a safe space for those with similar experiences and thoughts.
Meanwhile, over the years, memes have become a great medium for healthy acceptance of matters of stigma. From being a fun way to interact to becoming a therapeutic mode of expression, memes have come a long way to our rescue.
In times when lending an ear has become a rarity amidst all the glam and glitter on social media, memes turned out to be a worthy medium to share an outlook without being offensive. The Facebook page Memes to Discuss in Therapy initiated healthy and entertaining conversations to dispel the prejudices around therapy and unlearning of traumatic experiences through memes. And people across the internet showered validating love on this page.
Here are 25 memes you shouldn't shy away from discussing with your therapists:
1. Ignorance is bliss
2. Stay strong
3. It's an achievement as well
4. The grief of being a cat parent
5. Ladies and gentlemen, it's Mambo No. 5
6. Hello, old friend
7. Worry not
8. "I told ya!"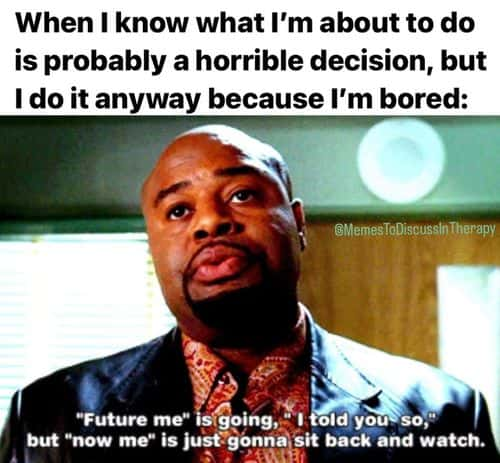 9. Sorry, what?
10. Any coffee addicts out there?
11. It doesn't hurt to ask
12. Battery low?
13. How about the other way around?
14. Innit?
15. Why am I like this?
16. Say no more
17. Sailing in the same boat
18. How on Earth is that making sense?
19. Mr. Gunny?
20. We need that ear
21. Adopt me, Taylor
22. Is it too late to say sorry?
23. Makes complete sense though
24. Oddly specific
25. Films run in my veins