25 Mental Health Memes That Capture the Chaotic Comedy of Life With a Dash of Humor
Laughter helps us get over negative feelings. These memes will provide a safe space for you to find humor in your mental health (or the lack of it).
We are now pretty aware of the importance of nurturing our minds with positivity. Staying active and eating plenty of fruits and vegetables isn't enough to maintain good health. It is also about checking in with ourselves and giving our feelings some thought. It involves resisting the urge to bottle up our emotions, being a little more self-aware, and perhaps most importantly, making time for things that make us happy. It is not unusual to turn a lot of what makes us sad into self-deprecating jokes so that we can normalize talking about such things.
Mental Illness and Memes is a Facebook page that has amassed an impressive 361k followers since its inception in 2019. It is dedicated to providing a safe space for people to find humor in their mental health (or lack thereof). While discussions about mental health should be taken seriously and seeking professional help should be encouraged, if you find that laughter helps you cope, we may have the perfect list for you. Check them out below:
1. Coping it is
2. Balance
3. I'm fine!
4. Never less than five hours
5. No offense
6. Mentally preparing myself
7. Dishes in the sink
8. Sad day package
9. Stop
10. I am my boss
11. Just a call
12. OK
13. Diagnosed
14. Do you hate me? Yes, you do.
15. It never claimed to
16. I am going to be productive
17. Who hurt you? Me.
18. Faked it or faked it not?
19. Sometimes for longer
20. A great day!
21. The loud urge!
22. Do they?
23. I just... telepathically send signals to the universe so the work happens on its own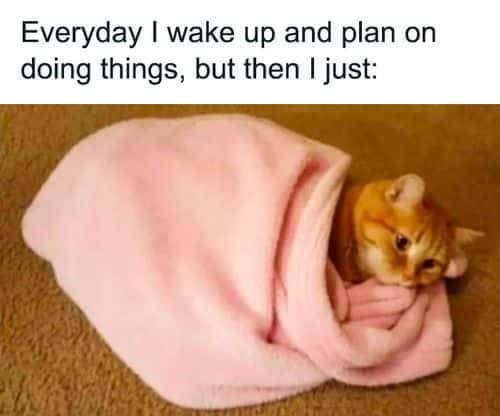 24. A round of applause for those who finish the tasks at some point!
25. A lot of progress