Classic 'Star Wars' Memes That'll Make You Want To Watch It All Over Again
Star Wars is etched in movie and nerd folklore and what better way to celebrate the work of art than through memes?
When we talk about pop culture, one classic we simply can't get over is Star Wars. The epic American space opera multimedia franchise from the mind of George Lucas began with the eponymous 1977 film and quickly expanded into television series, video games, novels, comic books, theme park attractions, and themed areas, forming an all-encompassing fictional universe. Needless to say, the galaxy of Star Wars hooked and encompassed every viewer like a pitcher plant and turned each of them into a fan. Here are some of the most hilarious Star Wars memes that we came across that'll make you want to watch the series again. May your laugh sound like chewie. In the words of Skywalker, "this is where the fun beings," so let the memes begin!
1. "No watermarks on tables when Hux is around"
2. "I'll try losing my will to live. That's a good trick."
3. "Hide and Seek Champion"
4. "Monday mornings"
5. "It's like poetry, it rhymes."
6. "You don't want to sell me any death sticks"
7. Right??
8. Right?? Part 2
9. "It's time"
10. "This one hit a little too close to home." Right?? Part 500
11. "It's like they never learn"
12. "I've enjoyed the memes, but the original dialogue between Anakin and Padme is raw, emotional, illuminating one of the best scenes in all of Star Wars" Right?? Part 501
13. Not a robot?
14. "Another happy landing"
15. "The real reason Han was killed"
16. "And Then There Was No Hope"
17. Right?? Part 105643
18. Right?? Part - I've lost count
19. "Probability"
20. "Genius"
21. "Oh Boy..."
22. "Those younglings had it coming"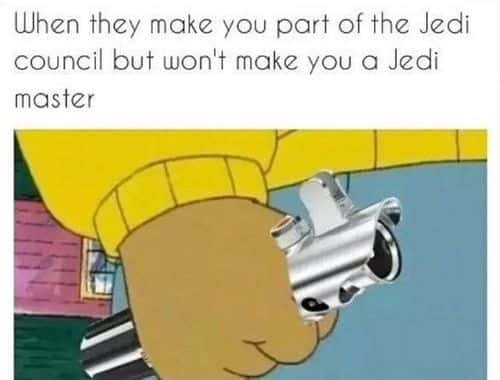 23. "He's back"
24. "This is dedicated to my fellow writers" Right?? Part - who's counting anyway
25. "Padmé seeing Ben rocking the same outfit for two films."