25 Times People Found the Weirdest Things on Google Maps and Flabbergasted the Internet With Their Absurdity
Many people skim through Google Maps purely for fun and end up discovering mind-boggling images that deserve to be shared on the internet.
We mostly open Google Maps looking for directions and locations. Usually, we know what we are looking for, be it our favorite pizza joint, a new address, the nearest gas station, etc. Sometimes we tap through Google Maps while stuck in traffic, trying to find the perfect detour. Overall, it is an extremely helpful tool, right?
However, there are many people who skim through Google Maps purely for fun and they end up discovering some of the most mind-boggling images which deserve to be shared on the internet. This is why a Reddit community called r/Google_Maps_Oddities exists where people post their bizarre discoveries on Google Maps.
Scroll through 25 of the most peculiar and puzzling images shared by people in this community and enjoy:
1. "A 40-year-old man went missing after a night out. 22 years later, a local man was looking on Google maps and spotted a car in the lake. When the car was searched, the missing man's skeletal remains were found inside."
2. "In Letea, Tulcea, Romania, Google Maps car was a carriage."
3. A secret science lab?
4. "It's a bird, it's a plane, it's a flying rabbit in Poland?!"
5. "The Google Maps Driver Forgot To Stop The Recording."
6. "In An Effort To Boost Tourism The Xinhua Village In China Built A Giant Qr Code From 130,000 Trees So It Can Be Scanned By Passing Planes."
7. "Does This Count As Odd?"
8. "Plane Entering Warp Speed?"
9. "Found in a panorama in the middle of the McClintic Wildlife Management Area outside Point Pleasant, WV."
10. "I think the Matrix is low one."
11. "New plant species."
12. A burning house?
13. Man with three legs?!
14. "Escaped Prisoner Found Near A Jail."
15. "What the hell?!"
16. "Google Earth finally revealing the truth about the pyramids!"
17. "Censored spot."
18. "Deep forest hole (Russia)"
19. "The Seattle Center has fallen to giant spiders! Flee, for there is no salvation from their hunger!"
20. "The End! Spelled out in shipping crates next to the rivian car manufacturing plant in normal, IL."
21. "This low overpass knocked the streetview camera off its mount."
22. "A blurred B2 bomber."
23. "Looking at a house on street view I'm interested in buying and found a mysterious naked big foot on street view."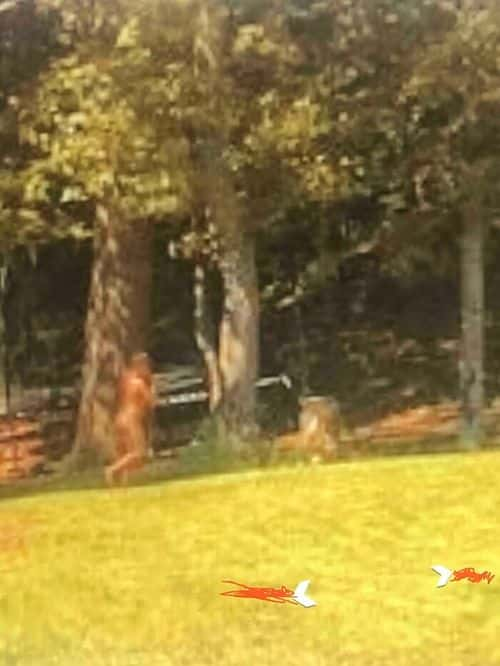 24. "There is a jeep(?) ditched in a pond near Key West, FL."
25. "Got you!"