25 Memes for the Circadian Rhythm-Defying Night Owls to Giggle Over at 3 Am
Staying up till 3 A.M. is all fun and games until your alarm rings at 7 A.M. and you have to face the world tired and grouchy.
Why can't we all go to bed early? Why can't we just follow the natural circadian rhythm? It could be for a lot of reasons. A common one is that it's way more fun to stay up late and the night brings a lot more sense of control and peace than you might not have felt during the day.
Facing the next day on a few hours of sleep is something for our future self to deal with and our present self to willfully ignore. Staying up till 2 A.M. is all fun and games until your alarm rings at 7 A.M. and you think to yourself, "That's not my alarm, I've only been asleep for five minutes."
It's time to grab that high dose of caffeine you claim to not be dependent on while forcing your eyes to mercilessly stay open. And while you do that, here are some relatable memes for you night owls to enjoy:
1. What a weird coincidence
2. Wishful thinking
3. Such weird effects of mild deprivation
4. The night is meant to scroll
5. No-anced Haiku
6. Fresh as a daisy
7. Freestyle pattern
8. Of course. What makes you think I didn't?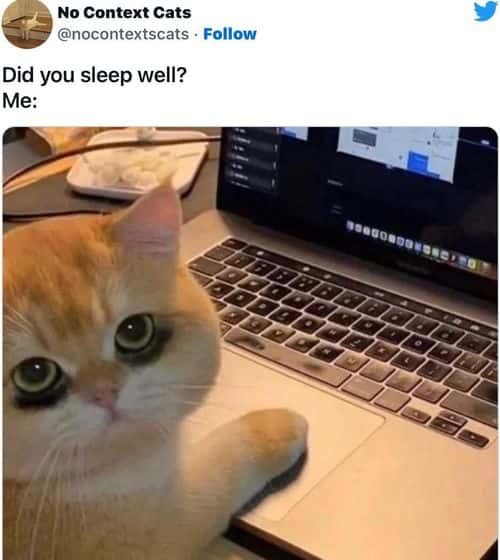 9. Don't assume such bold things
10. That's the spirit...for sure
11. Such mistakes
12. When math is really needed
13. Keeps me awake
14. Hate what tomorrow brings: a sleepy day
15. Wish a good night to wild habits
16. Make it work.
17. Damn you, brain.
18. Why? No clue
19. A legit question
20. You can never be too careful
21. Choas
22. And a sprinkling of luck
23. Or like maybe an hour
24. Maybe that'll help?
25. Cannot human today