It is an emotional ride as we come across all those teary-eyed videos welcoming the soldiers back to their homes and they meet their families after a long gap. Rather than the usual emotional reunion, this one woman went for something completely different - a prank. She had a rather quirky idea running in her mind to welcome back the love of her life from the battlefield. In a video posted on Reddit sub r/MadeMeSmile the woman sets up a battleground to welcome her army husband, as the man in uniform stops by at the entrance door at the beginning of the video.
The action-packed video starts with the husband reading the instructions laid out in front of him, unaware of what is going to take place. The instruction on the door reads: "Welcome home. Choose your weapon very carefully…. Good Luck!!" Later the army man looks around and gears up with all the water guns and pistols placed across the entrance. The man had no idea what he was about to face as he tightens his belt and appears to confidently enter with the water gun.
What happens next would have taken anyone back with surprise as the wonder-struck man faces a water hose splash right at him as the door opens. We know it counts as cheating because a water hose has no match with the pesky water gun at close range. But the laughter after the bang-on shot from his wife would leave you in tears. He can be heard saying, "Are you serious?" As he heads back to the entrance only to get that second shot of water at his face.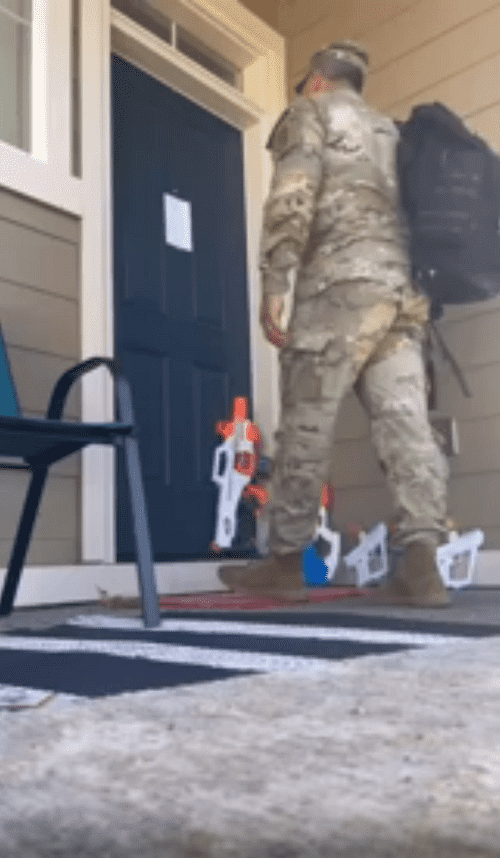 The video became viral as it has more than 73k upvotes with users who bombarded the thread with fun comments. Some loved the idea of surprising the man and lauded the wife for being the sporty person she is, while others shared hearty laughter over the action-comedy genre of the 17-second video. u/Perenium_Falcon writes: "Never fight your opponent on a battlefield they prepared," to which another agreeing user u/cheesymoonshadow writes: "Right? I was hoping he would go covert around the side of the house or back door." Other users like u/Semi-Nerdy and u/Ok_Piece5313 share views: "Dude was stuffing nerf in his pockets. He was ready for anything but that" and "He got a lesson in asymmetrical warfare," respectively.
The video was loved by people across the internet as they called it a crossover nobody imagined. The man was ready for any kind of wrath but was taken aback by the UNO Reverse card played by his excited wife. Coming back home is not complete without surprises and heartwarming gestures and this fun-packed combat at play divided the internet as they cheered for their player in sight. We totally believe the man would never forget the robust welcome arranged by his wife.