Cats will get attention whenever and wherever they want it. After all, they are the thieves of tuna and our hearts. Now, they are capable of stealing your partner as well. Yes, these balls of fury and fur can be a homewrecker and manage to make you a third wheel in your own relationship.
The best proof of this threat was given by Nasrin Hami, 28, from Thailand who posted a series of wholesome photos on Facebook showing how her husband Anatchai is constantly doted on by their Scottish fold gorgeous feline, Jarvis.
According to Metro, Jarvis always finds a reason to be near and around Anatchai. Hami jokingly accuses the cat of stealing her husband and never returning him to her. Jarvis can be seen in photos she posts online perched on Anatchai's lap or at least beside him in any way possible, fussing over him and asking for head rubs and kisses. He also doesn't seem too pleased with Hami for hanging around him and his best friend, judging by his sour expression when looking directly at the camera in many of the photographs.
Although there are many photos showing him sitting next to Anatchai at mealtimes, even going so far as to rest his paw or head on Anatchai's hand while he ate, he doesn't appear to be drawn to the food. "Jarvis he always loving and affectionate with my husband and he acts the same way with me and is friendly with everyone who visits our home," Hami shared with Bored Panda.
Jarvis celebrated his eighth birthday on April 23, 2022, and has been around the couple for a long time. Despite many cat fans' requests, Nasrin made it clear on her Facebook page Baan Nee Tong Mee Meow that Jarvis is not for sale. Although many of his online fans assumed Jarvis was a female cat, Nasrin confirmed that he is a male Scottish fold. According to her, his breed makes him a brilliant and loving pet. Here is the evidence of how this lovely clingy obsessive ball of sass stole Hami's husband:
1. What are you looking at?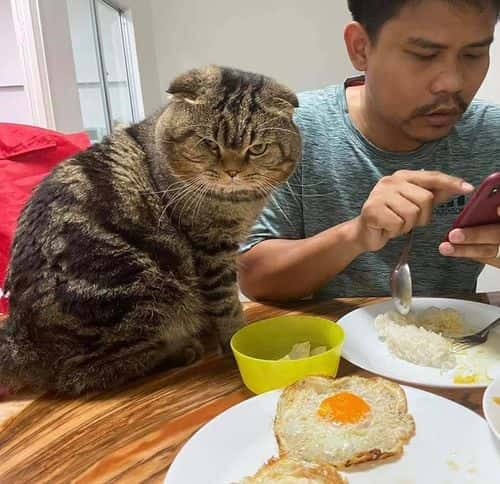 2. Some privacy, please
3. He's all mine
4. I see you watching
5. Do you mind?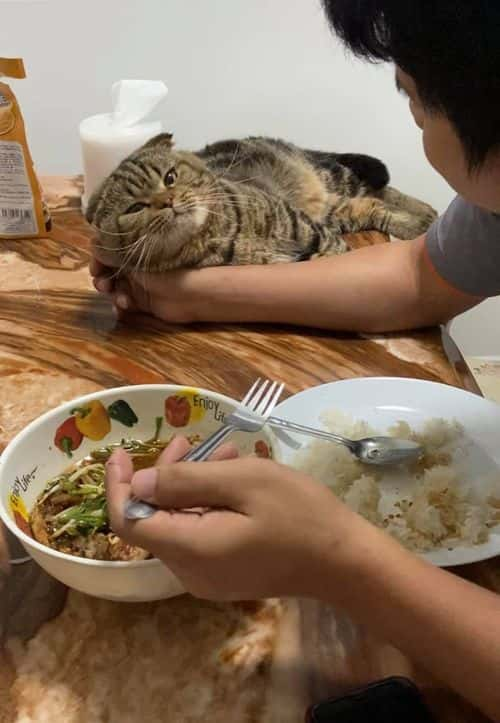 6. My precious
7. Who's that handsome guy?
8. I'm just a baby!
9. Loafing on bae
10. Sweet sweet love
11. Blep
12. Part-time cat, full-time cushion
13. I protecc favorite human
14. Soulmates
15. Very comfortable
16. Release me to my beloved!
17. The blep returns
18. He loves me more than you
19. Don't listen to them. What we have is pure.
20. Stop gawking at us
21. In heaven
22. All mine
23. Till the end of time
24. Spending quality time with boo
25. Attachment issues? Who? Me? Absolutely not